Gentle Giant
"That one may smile, and smile, and be a rose."
The original design for my sold out enamel pin, Gentle Giant. This ended up being the OG, Sonnet 99. Named after my darling's favourite Shakespeare sonnets.
Check out my Facebook group if you want more info!!
Ink and Kuretake Gansai Tambi watercolour on paper.
Sushi Heaven
The best of sushi at the best of restaurants in Portland!
This place actually exists, so if you can find it, you could be dining with robots, lion tamers and camouflage cannibal fish!
9x12 Copic multiliner on Bristol.
Battle Bacon
An homage to our battle damaged cat, Bacon. She lost 3 canines, two claws and some eyesight in a fight with an airplane carrying cage. Yet she is still unstoppable in her need for food and cuddles (in that order).
Penciled on paper, all inked in Procreate.
LET GO
I like to sometimes zone out and write out funny or silly things or sometimes to remind myself to let go sometimes.

Pilot Cavalier on 7x10 Mixed media paper.
The Little Digger Bird that Could
I have such a fascination with complex machinery and the cute little critters that operate them.
This 9x12 India ink on Bristol has been SOLD but prints are available.
Wurstronaut© by Austen Zaleski
This thicc sausage queen is my 'draw this in your style' version of the Wurstronaut, a character created by awesome artist and all around nice guy, Austen Zaleski.
Pentel Colourbrush & Pentel sign brush on 300 gsm watercolour paper.
Not For Sale.
Wurstronaut is owned by Austen Zaleski
Sparkly Mech
@Ratyolk's original was an excellent basis for this 'Draw this in your style' piece. Her work is so radically different from mine so it was a great challenge. Good fun playing with contrasts in layout, texture and pose.

Not for sale! Fountain pen on Strathmore 5.5 x 8.5 watercolor paper
Original by Ratyolk
Zero fucks and a double
Playing around with my Copic Gasenfude on some sketch paper and this bad ass lounging lady was born. Washed it down with some inkwash (and whisky).
8.5x11 on sketch paper.
The Power of Red
I love redheads, strong women and machinery and like most of my illustrations, they are all love letters to my darling and this is no exception. This was for March of Robots 2017.
Ink & Copic markers on 7x10 Canson mixed media paper.
Inktober is love
Did I go overboard with this inktober piece? No such thing.
9 x 12 Nib & ink on Bristol.
Not for sale.
Epic Wacom demonstration result
This image was created entirely freehand and unplanned during a Wacom demonstration at local retailer 3DV.
Featuring Battle Bacon, Batman and their supervisor, Supervisor Lady!
Witchy Halloween
Who says biomechanical purveyors of the arcane can't enjoy a good book and a nice cuddle with a kitten in front of the hellfires opened by Satan?

Not for Sale
6 x 9 watercolour paper
Brush & india ink
Yoga
Don't forget to stretch!
9 x 12. Pentel Pocketbrush and Pentel Sign brush on 300 gsm Canson watercolour paper.
Mulder, it's me!
The best pun I ever came up with. #skully #getit #punsarelove #punsarelife
Copic Multiliners, Copic markers and ink wash on 7x10 Canson mix media paper.
Gentle Giant - Enamel Pin set
The full set of the first limited edition Inkshift pin: Gentle Giant.
Pictured you see:
LE 60: Sonnet 99, named after my darling's favourite Shakespeare sonnet
LE 30: King MATA, named after the first initials of the family of my amazing
friend and Facebook admin Michelle.
LE 15: Hermano Mio, named after my excellent friend Miguel Alvarez, also
known as Art Acolye. He got me into the pin community and
pushed me WAY out of my comfort zone and changed my life for
the better in doing so.
This set sold out in 7 minutes so they are not available but my next pin HAMLET will be available soon! Join my Facebook group for more info.
Rocket Boyd
I love Rocket Boyd. Where do you think he's on his way to?

He was commissioned as an enamel pin by my friends over at Fuzzy Friends Studios. He went on to be a quick sell-out and a much beloved part of people's pin boards. I love the pin community!
Robot smash!
One of my favourite things to draw is grumpy old men in wrinkled suits. Something I like even more than that is drawing robots so I naturally combined the two.
Winsor & Newton brush on 7x10 Canson mixed media paper.
Self Portrait: TREE FIDDY
Self portrait for Inktober. The prompt was TREE but I didn't feel like drawing a tree. So I made it TREE FIDDY. This was a lot of fun and came out very nice.
India ink, brush & ink wash on 6x6 paper.
LET'S GO
A tribute to @ashleynocera.
This unicorn does it all: weightlifting, shoots hoops like a pro, does pratfalls, funny dances, eternally positive and her almost daily videos are funny, snappy, well edited. Above all, she doesn't take herself too seriously and she brings joy to the world wherever she goes. Reminds me of my very own favourite redhead.
Pulp or Die
Drew this in 20 minutes, straight to ink, unplanned. It's amazing what you can do when you're able to quiet the judgy little voice in your brain and just focus on the joy drawing gives me.
This was a little bonus I threw in for a good friend and customer and it ended up stealing the show!
Not for sale, Sharpie on comics backing board.
Squidoo
Nothing more beautiful than my darling dancing happily in the kitchen so that's how I drew us. I'm not the lecherous little alien in the corner at all!
SOLD but prints are available.
7x10 Canson Mix media paper with india ink & ink wash.
The Lady was drawn with a Kuretake 40 brush pen and the alien (who is not me) was drawn with a Winsor & Newton Round 1 brush.
Livestream Shapedoodle©
I like making random coloured shapes and then filling them in with whatever my brain wants to see. In this case, some D'nD style cuties. I started doing these during early morning livestreams in my Inkshift Facebook group and adding more creatures during each stream. This is the result of 2 streams!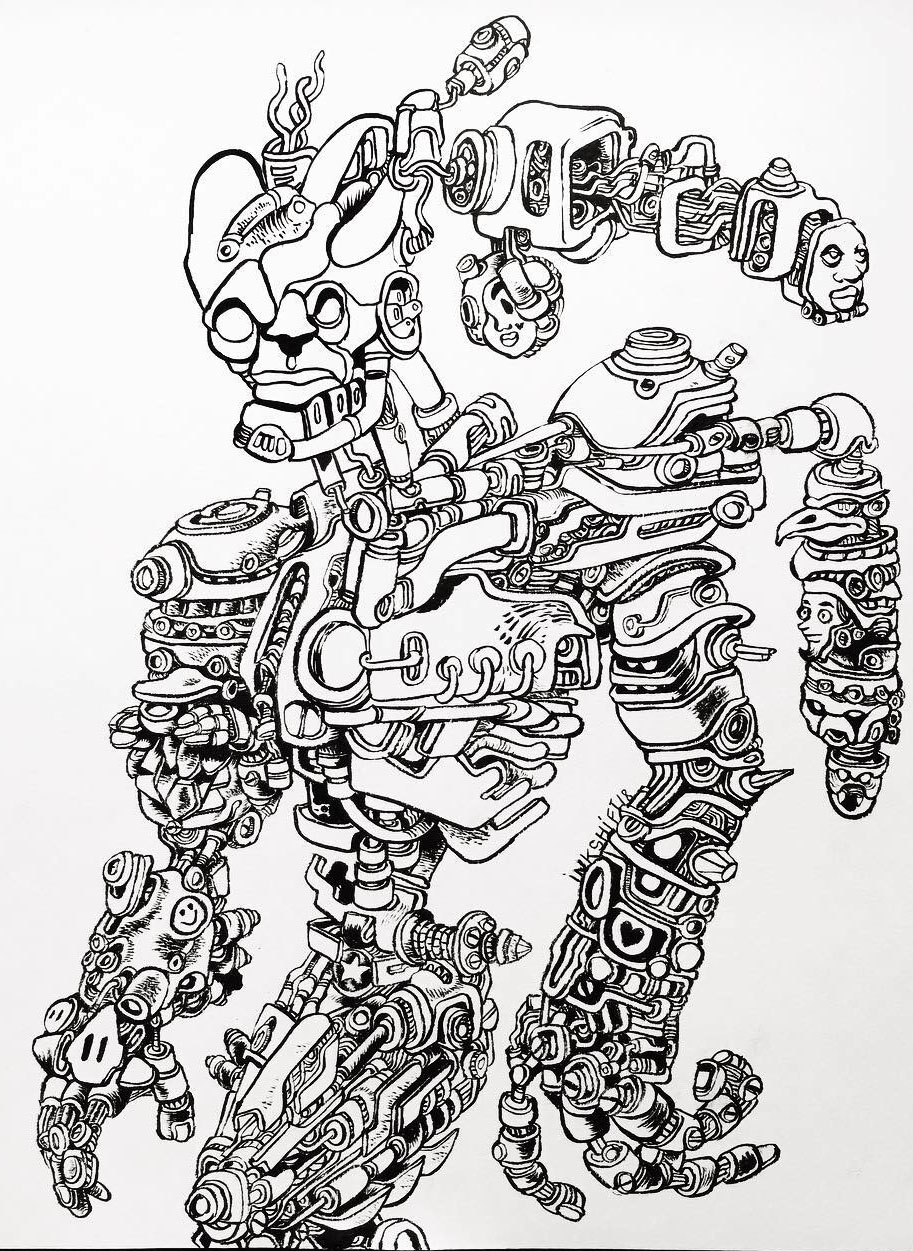 Let Your Mind Wander
This is what happens when you sit me down for 3 hours in 2 sittings and I let my mind completely wander.
9 x 12.
Pentel colourbrush on Canson 300 Gsm watercolour paper.
Battle Chicken
One of my first Inktobers and a fan art take on Jake Parker's character Battle Chicken. Jake Parker is of course the founder of Inktober and one of the reasons I got back into drawing.
Copic Multiliners & inkwash on 6x6 paper.
Tribute to Art Acolyte
Gifted this piece to my brother, Miguel Alvarez, for all his great care and kindness in launching me into the pin world and changing my life in ways I never thought possible. Much love until the end of time, brother, wherever you are.
9 x 12
Kuretake 40 on Bristol.
In private collection
Get Naked!
What else is there to say!? One of my series of shapedoodles, fountain pen on 7x10 Canson Mix Media paper.
Fireball
My first inktober i think in 2015. My darling has an intense fire burning in her heart and the biggest head of gorgeous, red hair possible. So many love letters to her.
Brush & india ink & ink wash on 6x6 paper.
Samurai mech
I like to go straight to ink, unplanned, let the inky chips fall where they may. This was just playing with curves & straights.
SOLD. No prints available.
Kuretake 40 on Canson 7x10 mixed media paper.
Hell YEAH I lift
Nothing more beautiful than a strong woman. Unless she's cybernetically enhanced of course.
Winsor & Newton brush & india ink on Canson 7x10 mixed media paper.
Red Robot Red Robot
Idle doodling to blow off some robotic steam.
Daler Rowney acrylic ink on 7x10 Canson Mix Media paper with
a G nib.
I VANT TO SUCK YOUR BLOOD
This is what happens when I combine three inktober prompts: Giant, Vampire and uh, something else!
SOLD but prints can be made.
India ink & brush with grey wash and Copic Multiliners on 7x10 Canson Mix Media paper.
Heartless?
A mindless doodle session. I always do my best work when I don't pay attention.
Brush & india ink & ink wash on Canson 7x10 mixed media paper.
Original is SOLD but prints can be available.